Nauzha's Product Materials
Nauzha has always focused on providing safe, environmentally friendly, high quality and cost effective products to every customer through the latest technology. We are also constantly looking for a more perfect interpretation for our main product, Chinoiserie Wallpaper Mural.
Therefore, We have decided to upgrade our product line completely starting from October 2021. Only two high-end materials will be available for sale, NAUZHA-SILKTM material and Metallic Leaf material.
After a long period of investment in research and development, and dedication to product excellence. We are confident that our products will impress more customers. The characteristics of the two materials are described in detail as follows.
NAUZHA-SILKTM material
The production of silk originated in China. It could be traced back to prehistoric times, as far back as the Neolithic period (Yangshao culture, 4th millennium BC).
Silk is a specialty of China. The ancient Chinese people invented and mass-produced silk products. It was the first large-scale trade exchange between the East and West in the history of the world, known as the "Silk Road". Meanwhile, many archaeological discoveries have shown that silk had already become a luxury appreciated by people in many countries far before the Chinese opened up the Silk Road.
Silk is a natural protein fiber, some forms of which can be woven into textiles and it's inherently light, soft and one of the strongest natural fibers. With Nauzha's technical improvements, the new product is full of surprises.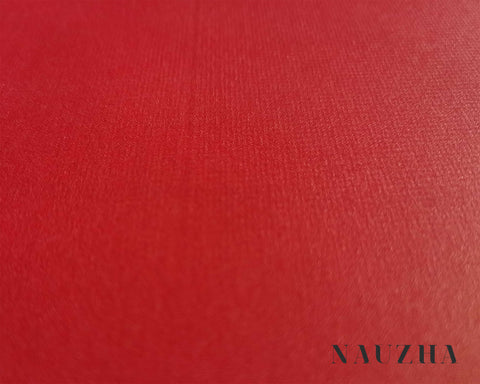 Benefits:
Environmentally friendly and non-toxic
PVC-free
Accurate color
Thin silk texture
Extra matte finish
Anti-reflective
Does not fade in sunlight
Robust and durable
Backing paper (Thickened and mildew proof) 
Gold, Silver, Champagne Metallic Leaf Material
When it comes to this material, let's start with a review of the history of gold leaf. The first discovery of gold leaf making was in the Nile Valley of ancient Egypt. The artifacts excavated from the tombs of ancient Egyptian pharaohs prove that Egypt mastered the technology of gold leaf processing very early. In Europe, in the Middle Ages, Hamburg, Vienna and other places already had gold leaf processing industry. Among Asian countries, China has excellent gold leaf manufacturing skills and excellent products. Currently, 60% of the world's gold leaf is produced in Longtan Town, Nanjing, China.
And until now, there are still a large number of processes in the gold leaf production process that cannot be replaced by machines. Nauzha's Metallic leaf material is processed in full accordance with traditional crafting methods and is handmade with vintage textures.
Benefits:
Waterproof
Environmentally friendly and non-toxic
Vintage gold/silver/champagne leaf texture
Does not fade in sunlight
Robust and durable
Backing paper (Thickened and mildew proof)